Price & Hours
Admission Fee
Biopark
Adult
(18-59 years old)
Junior high & high school student
(13-17 years old)
Child
(3-12 years old)
Teacher
General Prices
1,700 yen
1,100 yen
800 yen
-
Group Prices
(For Groups 15 or more)
1,530 yen
990 yen
720 yen
-
School group
(Official activities)
1,300 yen
880 yen
640 yen
Admitted free
Nursery or kindergarten group
(Official activities)
850 yen
650 yen
400 yen
Biopark + Pet Animal World (PAW)
Adult
(18-59 years old)
Junior high & high school student
(13-17 years old)
Child
(3-12 years old)
Teacher
General Prices
2,000 yen
1,400 yen
1,100 yen
-
Group Prices
(For Groups 15 or more)
1,800 yen
1,260 yen
990 yen
-
School group
(Official activities)
1,600 yen
1,120 yen
880 yen
Admitted free
Nursery or kindergarten group
(Official activities)
1,000 yen
800 yen
550 yen
Notes
Children under 3 years old are admitted free.
Senior (60 years old and over): Biopark=1,100 yen, Biopark+PAW=1,400 yen *Identification required
US Navy personnel stationed in Sasebo and their families: 10% discount on production of the ID card.
Annual Passport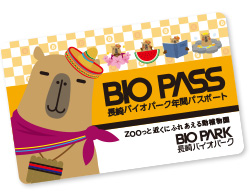 Nagasaki BIO PARK annual passport "BIO PASS" is now on sale!
BIO PASS members can enter into the Zoo, unlimited number of times for one year from the day of purchase.
BIO PASS Prices (for one year)
General Passport
(13 years old and over)
8,000yen
Kids Passport
(3-12 years old)
4,000yen
BIO PASS can be used by the person only who registered on the card.
BIO PASS is valid for one year from the day of purchase.
Zoo hours
Open from 10:00 to 17:00 (enter before 16:00)
Nagasaki Bio Park is open 365 days a year, including all holidays.

BIO PARK CO., LTD.
2291-1 Nakayama-gou, Seihi-cho, Saikai-shi,
Nagasaki-Pref 851-3302, Japan
Phone 0959-27-1090 e-mail: info@biopark.jp