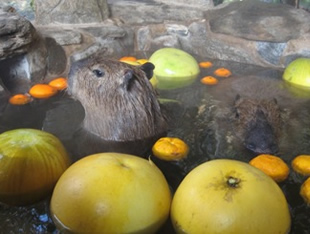 Please come to see adoreble capybara in the bath.
Capybara's open-air bath became one of the winter tradition in Biopark. It is very popular in Japan and is being broadcast on television every year. It is getting famous abroad.
*It is sometimes called a "hot spring" or "spa". To be precise, it is a open-air bath.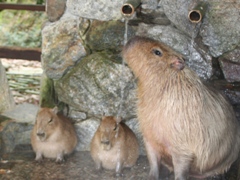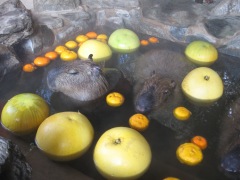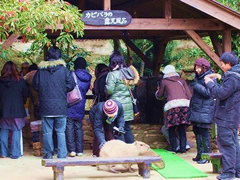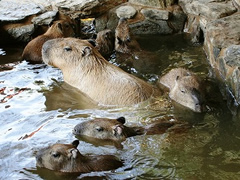 Capybaras are originally a waterside animal in South America. Because it is cold for them in winter in Japan, they love bath.
They look very relaxed and happy in the bath. It will make you happy too. The bath can be full of capybara because there are many of them in Biopark.
The capybara exhibition area has no boundary with visitors and capybaras in Biopark. You can see them in the bath nearby, and even touch them.
"Capybara's citrus bath" will be held in the winter solstice. This is an arrangement of Japanese customs praying for disease-free suffocation. The bath with large citrus fruits smells very good and it will make you relaxed too.
Capybara's open-air bath is held from December to February every year. However, capybara does not take a bath on a warm day, so please be careful.